Mr. Weddle (superintendent) working with 7th grade students on unlocking combination locks! #cadetpride #allhandsondeck #leadingbyexample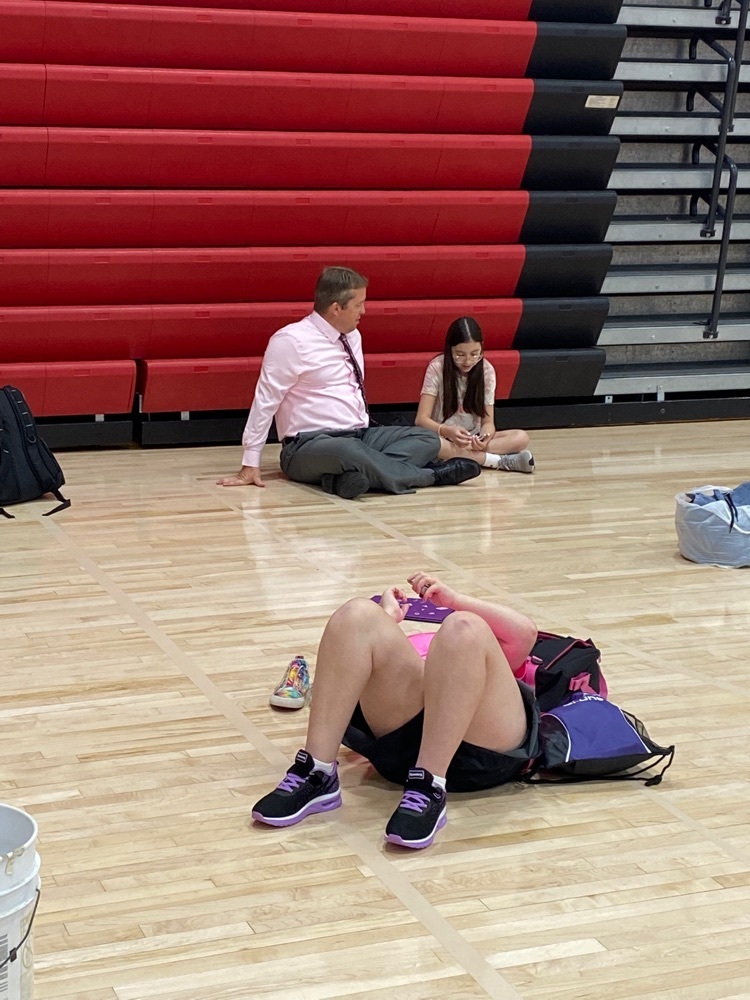 Attention High School Parents/ Guardians: Computer Fees are up on the Parent/ Student Portal if you want to pay the $30 Computer fee for your student before the first day of school. This fee is not required however, if it is not paid the student will not be able to bring their school supplied chromebook home - it will need to stay at school. Once in the portal - click on FEES and you will see the 22-23 Student Fees. No processing fee - can use echeck or credit card. Also if you have not already done so, please register your student for the 22-23 School year under the MORE tab - Online Registration. Please let any of the office know if you have any questions.
https://necloud1.infinitecampus.org/.../westpoint.jsp
...

For those who have not completed the 22-23 online registration, WPPS will be offering assistance all day this Thursday, Friday and Monday in both the high school and elementary offices. Translators are available. Please log on and have your students all registered before Tuesday, August 16th. If you have forgotten your username or password please contact the offices or email
mfaubel@wpcadets.net
Juniors and Seniors: We were recently approved to teach Advanced Speech this year. It is now available for Dual Credit through Wayne State College. Please email Mrs. Knaak if you are interested in taking the class.
Girls Golf practice will start Monday, August 8th at 3:00 at Indian Trails Golf Course in Beemer. Meet at the high school at 2:45 if you need a ride to the golf course. If anyone is interested in joining the team, please contact Mrs. Knaak by calling the school or emailing
dknaak@wpcadets.net
.

Reminder: Band marching practice for the Cuming County Parade is this Thursday and Friday. This is for all band students going into grades 8-12. Drummers please come at 10:00 on Thursday to review the cadence. Everyone else please be there by 10:30. Letters have been sent out.
Elementary 2022-2023 School Supply Lists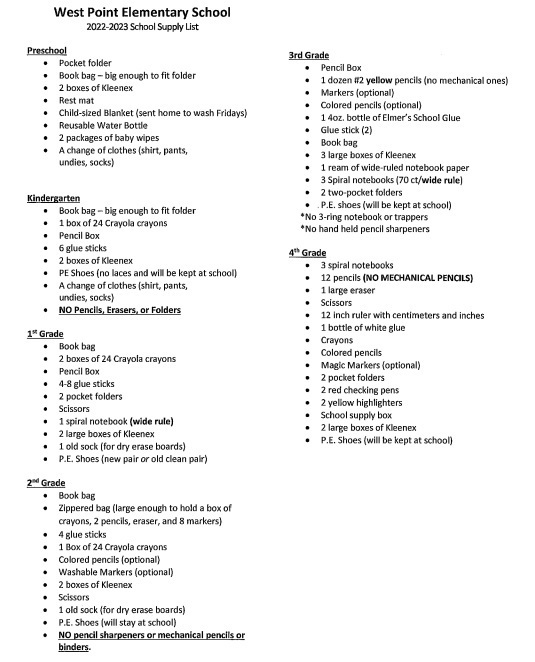 Reminder to get those Sports Physicals scheduled. All athletes will be required to have a physical turned in before participating. Also-7th,9th,11th grade athletes can come to the office to do impact testing.

5th and 6th Grade School Supply List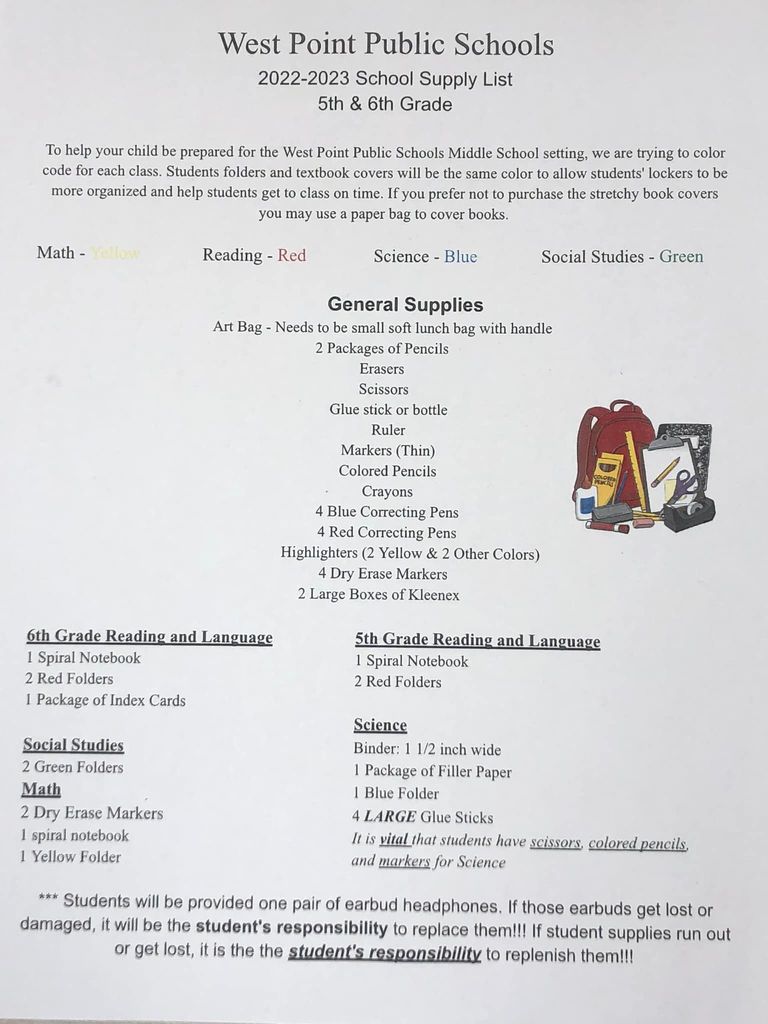 Congratulations Mr Schroeder: Lee Schroeder, longtime Howells head wrestling coach and current West Point- Beemer assistant coach, has been selected for the 2022 Guy Mytty Award for his outstanding dedication and service to high school wrestling in Nebraska. The Mytty award is named after long time Tekamah-Herman wrestling coach Guy Mytty. It is given annually to an individual who has a long history of a lifetime of support for wrestling. The award will be presented at the Nebraska Coaches Association banquet on July 24 in Lincoln. Schroeder said it was a "humbling honor" to be receiving this award.
As a reminder: We will have summer weights testing tomorrow (Sunday) at 3:00 in the high school gym. This is for any student who plans to participate in summer weights in grades 7-12! Also, at 4:30 tomorrow (Sunday) parents are encouraged to come up to the school for a presentation on Nutrition and how to help your student-athletes recover in the multi-purpose room. It is requested that you bring a highlighter for this presentation! We look forward to see you all tomorrow!

Congratulation to the West Point-Beemer High School Class of 2022. Best Wishes to you all in the future. #CadetPride


Congratulations to the West Point-Beemer Cadet Track and Field Athletes who have punched their ticket to the State Track Meet!! Edward Pena - 3200 Mia Hunke - 400, 100 Hurdles, 300 Hurdles Treven Weddle - Triple Jump Bennett Meyer - Long Jump Jax Jacobson - Pole Vault Claire Paasch - Shot Put Meg Anderson - Shot Put

Congratulations to our middle school Cadets of the Month! 5th- Brooklyn Johnson 6th- Jadyn Doggett 7th- Jennifer Rodriguez 8th- Taylyn Maas #cadetpride #upholdingthecode
Mrs. Anderson's ELL classes took a field trip to Omaha's Henry Doorly Zoo today!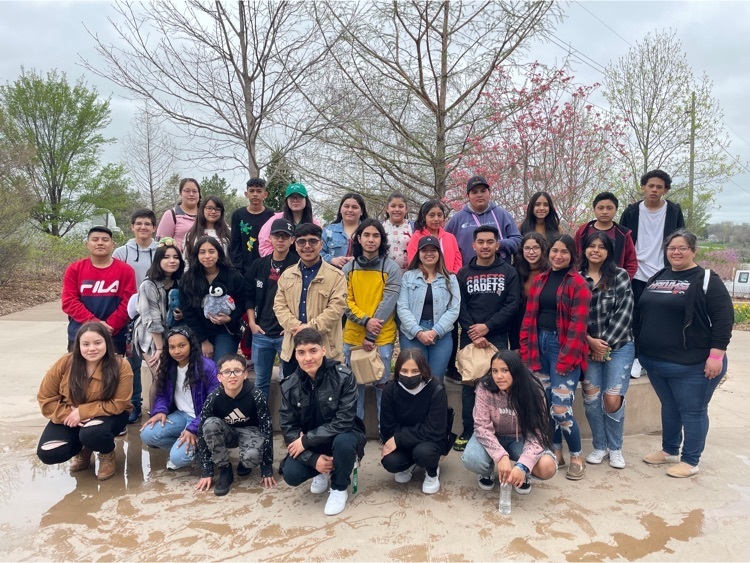 Late post: 8th grade student touring Northeast Community college and playing a quick game after they were done! #cadetpride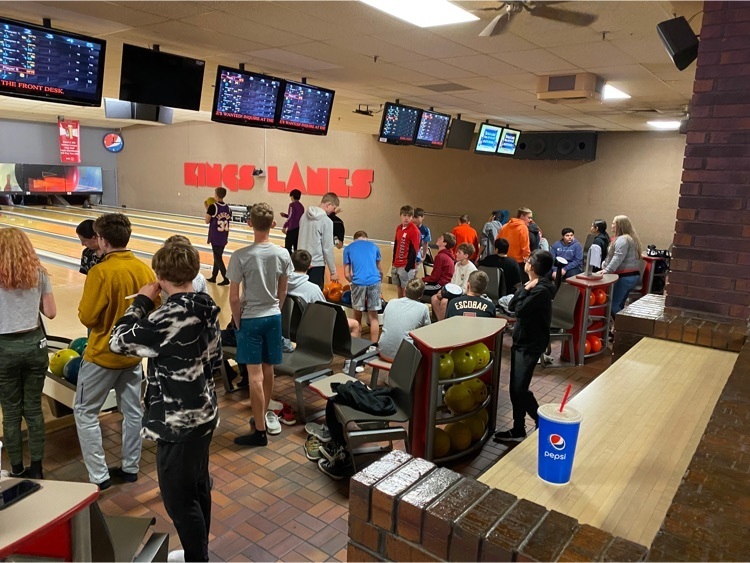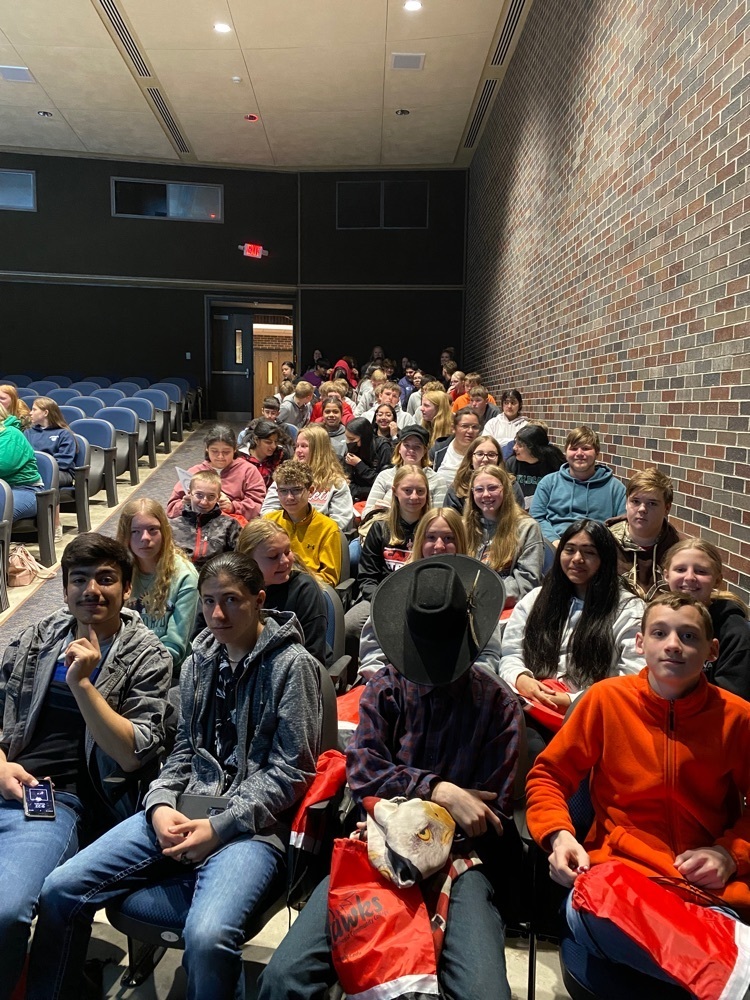 Incoming 5th and 6th grade students and their parents: You are invited to an… END OF THE YEAR MIDDLE SCHOOL WRAP UP!!! WHAT: an opportunity to gather information about… *exciting summer activities for youth *the school supply list for next year *learning packets for summertime work *teachers for the 2022-2023 school year Also…ROOTBEER FLOATS! WHO: provided for 2022-2023 incoming 5th and 6th grade students and their parents WHEN: Monday, May 9th from 5:00-6:00pm (come and go as you please) WHERE: the high school cafeteria (please feel free to park in the elementary or high school lots) Estas invitado(a) a un… ¡¡¡CELEBRACION DE FIN DE AÑO!!! QUE: una oportunidad de recibir información de… *actividades de verano emocionantes *la lista de útiles para el año entrante *paquetes de aprendizaje para hacer durante el verano *los maestros para el año 2022-2023 También… ¡ROOTBEER FLOATS! QUIEN: proveído para los estudiantes y padres del grado 5 y 6 del año escolar 2022-2023 CUANDO: lunes, 9 de mayo de 5:00-6:00pm (venga y vaya a su conveniencia) DONDE: la cafetería de la High School (siéntase libre de usar el parqueadero de la primaria o high school)

Saturday's East Husker Conference Track Meet has been postponed to Tuesday, May 3 at 9:00 AM in Humphrey. Today's baseball games at Genoa have been cancelled.

Beginning Clothing students tested their sewing skills & made monogram zipper pouches!